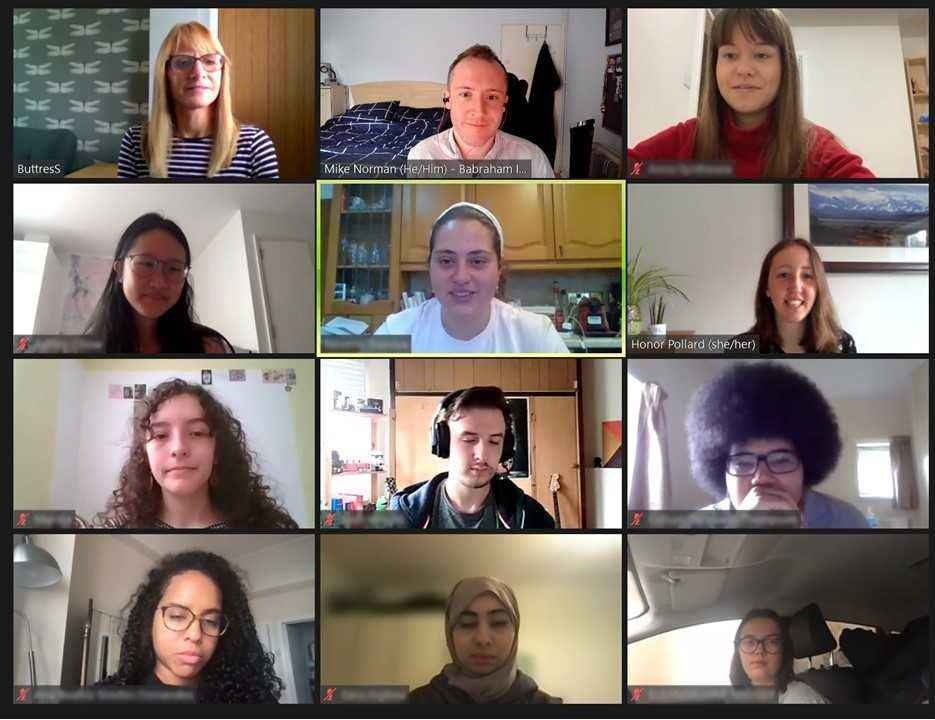 RAP 2021: Teamwork and Independence
In this blog series, we hear from some of the students on the Babraham Institute's 2021 Research Access Programme. In this final post, we hear from two students: Ashley and Marina.
I'm Ashley and I study physiological sciences at the University of Bristol. I was interested in the Research Access Programme because I wanted to gain more research experience and have the opportunity to meet like-minded people in the research field. My project involved analysing global redoxome data to understand cysteine oxidation in ageing, under the supervision of Dr. Hayley Sharpe's lab. I was responsible for data analysis, coding and creating graphical figures.
This placement has been an amazing experience and one that I can't recommend enough to other students. It has allowed me to discover my true passion for research and has also shown me other career opportunities in the field, such as working in scientific communications or public engagement. I found the frequent talks conducted by various staff in the Institute especially useful as it allowed me to gain an insight on the different careers a STEM degree can lead to.
I enjoyed that I was able to provide suggestions and give my input, to independently drive the project
During my project, I have learnt a lot about data analysis and how to code using a programme called R. Throughout the placement, I kept in close communication with my supervisors and discussed ways in which the data could be presented. I enjoyed that I was able to provide suggestions and give my input, to independently drive the project. This has allowed me to develop my communication and team working skills further.
Overall the Research Access Programme has given me valuable research skills and has allowed me to gain a better insight into the research field. I am very thankful for all the support the Babraham Institute has given us and would definitely recommend any student interested in research to apply for next year's programme!
---
Hi, I'm Marina and I am a Biology student at the University of York. This year I was given the opportunity to take part in the Research Access Programme at the Institute, enabling me to experience how research is carried out and to be able to independently work on a project.
My time at the Institute was incredibly enriching and fulfilling, I had the chance to work with the Lipidomics Facility with Dr Andrea Lopez and Dr Bebiana Da Costa Sousa. My project involved looking at the changes in mitochondrial lipid composition using mass spectrometry. Although I did not know much about lipids before taking part in this project, by the end of it I felt like I had a much deeper understanding. Throughout my project I was able to extensively develop my research skills and learn new methods of analysis, particularly using Prism and BioPan. My supervisors were always happy to help and provided a very welcoming environment! 
During your undergraduate studies there is so much pressure to obtain research experience... Opportunities such as this are essential
When I was not working on the project I had the opportunity to attend a series of talks, these ranged from public communication and engagement to statistics and bioinformatics. All these gave me a deeper understanding of what a career in research is like and displayed that there are many potential paths your career can take beyond research itself. We also had the opportunity to talk to several PhD students at the Institute which showed me what doing a PhD is really like and answered many questions I had about the process.
I really recommend taking part in the programme as it is a really good way to see what research is like and whether you would enjoy a career in it. During your undergraduate studies there is so much pressure to obtain research experience, something which can be extremely difficult. The process can make you doubt yourself and your abilities as a scientist. Opportunities such as this are essential, and having finished it I can say that it has given me clarity about my career and many skills that will really aid me in the future.
---
Enjoyed this blog? Hear from some of our other 2021 Research Access Programme students: