Careers and Staff Structure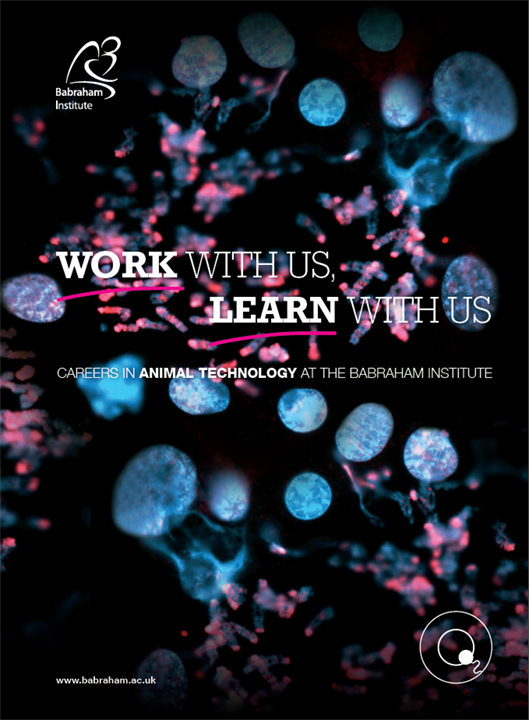 Work with us, learn with us.
A career in animal technology at the Babraham Institute offers exciting and rewarding opportunities to learn as you work. Whatever your career stage, you will be supported as you gain skills, qualifications and experience.
Our brochure sets out the opportunities for career progression, describes the duties and responsibilities of an animal technician, the qualifications and training available and provides an overview of the animal facility.
If you have any questions about careers in animal technology, contact Laura, our animal facility careers advisor, by emailing laura@babraham.ac.uk
The BSU facility has a team of around sixty staff. To ensure the highest standards of animal care and service to the researchers using the facility we provide staff with a continuous programme of training allowing them the opportunity to progress with their careers in animal technology.
---
Formal Training and Development
Within the animal technology industry there frequent day-seminars and larger meetings arranged across the UK covering related topics which our staff attend. This helps us to ensure we have up-to-date information on the latest trends and technology.

All staff are encouraged to continue to train in national qualifications provided by the Institute of Animal Technology up to Level 5 Diploma in Animal Technology, moving on to a relevant degree course if motivated to do so.

Working in the facility provides varied opportunities for training which result in careers branching off to different areas of specialisation.
---
Bio-Science Units
Trainee Technician - We employ staff with a proven interest in animal care at a 'trainee' level. They are provided with close supervision and training during an initial 12 months.

During this time staff are trained in basic animal care, record keeping and routine duties as set out in standard operating procedures. The also attend day-release training for Institute of Animal Technology national qualifications as detailed below.

Experienced Technician – This is the standard grade expected for all animal care staff once they have been through the initial 12 month supervision period. Experienced Technicians have animal husbandry duties and also use their Home Office Personal Licences to perform regulated procedures. They assist in training and mentoring of new staff members and take on additional duties to assist in the day-to-day running of the facility.

Unit Supervisor – They are animal technicians who have gained, through experience, a high level of expertise and knowledge in animal care and welfare. They are responsible for the day-to-day running of areas within the facility and deputise in the absence of their unit manager.

Unit Manager – Have a responsibility for overall management of an animal unit ensuring service levels to research are maintained and performance is audited. Managers ensure individual and team development programmes are in place to allow continuous advancement in work quality for the benefit of animals in scientific research.

Managers fulfil the role of Named Animal Care and Welfare Officer for the unit they manage, prioritizing animal welfare needs at all times. They are also expected to ensure they remain abreast of advancements within the industry and support the process of knowledge exchange.

---
Central Services
Central Services Technician
Processing of animal housing equipment and cage components using the
robotic cage-wash system
. Technicians are licenced forklift drivers responsible for unloading deliveries and processing items through the goods-in. They have a key responsibility for protecting the health barriers of the four Bio-Science areas, ensuring goods are processed in an appropriate manner using various methods.
Unit Supervisor
Has responsibilities for overseeing the performance of the service to the Bio-Science areas which involves close communication with the supervisors from the four Bio-Science areas and Deputises in the absence of the unit manager.
Unit Manager
​Overall responsibility for the service offered to the Bio-Science areas and maintenance of animal health barriers. Stores liaison with maintenance staff and contractors and working directly with other facility managers. Works with the Head of the Facility in budget creation and management. Maintains close liaison with industry suppliers, often working directly with them to design bespoke equipment to meet our changing requirements.