Widening Participation at Babraham's Schools' Day 2016
Schools' Day at the Babraham Institute last week featured new schools and new scientific projects, supported by Institute and Babraham Research Campus company researchers.  The event ran as two half-days, with 60 GCSE students visiting our labs in the morning and 65 A Level students in the afternoon.
Students this year came from as far afield as Essex, central London and even Wales to work alongside their contemporaries from Cambridge schools, with 13 schools participating in total. Students all took part in one of 22 projects, led by Institute and commercial scientists, which introduced them to the Institute's world-leading ageing research, cutting-edge techniques and equipment and above all, our enthusiasm for discovery.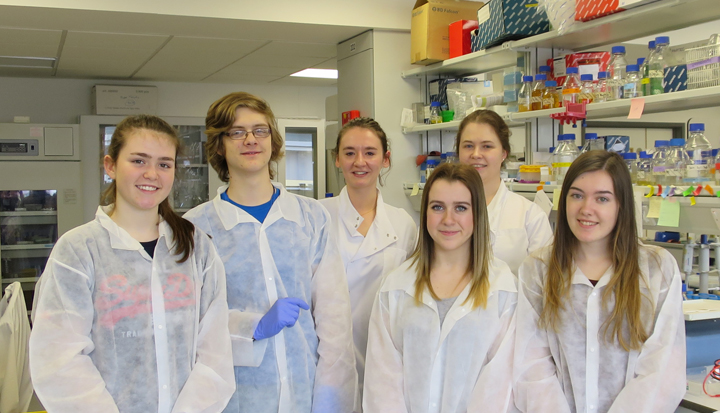 The students made use of BBSRC-supported research facilities, including Flow Cytometry and Imaging in projects on modification of DNA, signalling enzymes, stem cell development, Bioinformatics and network modelling. The projects run by campus companies Definigen and Crescendo Biologics both related to different aspects of immunology.
The new half-day format also included sessions where the visiting students could quiz a panel of PhD students, postdoctoral researchers and Group Leaders about their careers in science. University choices, personal achievements and problem-solving featured highly in the questions.
While the students were in the labs, their teachers were entertained and their knowledge updated with research presentations by Rahul Roychoudhuri, research group leader; Jo Durgan, L'Oréal-UNESCO Women In Science Fellow (working in Oliver Florey's group) and Sven Sewitz, postdoc researcher (working with Karen Lipkow).
Michael Hyde, Assistant Head of Science at Chelmer Valley High School in Essex said "Without exception, our students thought the activities were amazing and inspirational. Our staff were equally impressed at the level of organisation and the quality of the activities, including those directed at them. We really appreciate all the efforts the Babraham scientists went to to make the day so interesting and engaging for the students. Please pass on our thanks to your colleagues and keep up the good work."
This year's event was publicised through the Royal Society, to teachers attending the 'Teacher Industry Partnership Scheme' at Babraham during the February half-term and, for the first time, via social media. Next year's event is planned for Wednesday 1st March 2017 and invitations will go out in the autumn term. Please contact PE@babraham.ac.uk if you would like more information.