Profiling the immune system in paediatric arthritis patients offers hope for improved diagnosis
Key points:
Researchers analysed the immune system in greater detail than ever done before for paediatric arthritis.
Using this data, the researchers designed a machine learning algorithm with ~90% accuracy in identifying children with arthritis using blood samples alone.
Currently there are no strong biomarkers or blood tests for Juvenile Idiopathic Arthritis. This research has created a potential diagnostic tool to improve the diagnosis and treatment of arthritis in children.
 
A team of scientists from VIB and KU Leuven has developed a machine learning algorithm that identifies children with juvenile arthritis with almost 90% accuracy from a simple blood test. The new findings, published today in Annals of the Rheumatic Diseases, pave the way for the use of machine learning to improve diagnosis and to predict which juvenile arthritis patients may respond best to different treatment options. The work was led by Professor Adrian Liston, from VIB and KU Leuven in Leuven, Belgium and the Babraham Institute in Cambridge, UK.
 
Juvenile idiopathic arthritis is the most common rheumatic disease in children, but it presents in many different forms, severities and outcomes. This diversity makes patient classification difficult, especially in the early stage of the disease.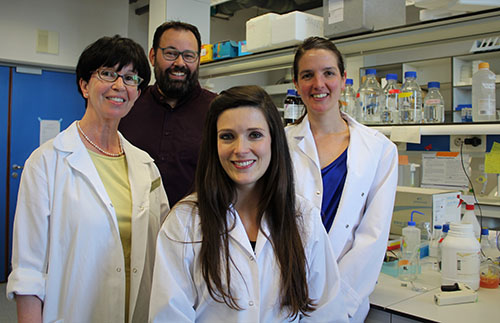 A team of researchers at Belgian research organisations VIB, KU Leuven and UZ Leuven undertook a detailed biological characterisation of the immune system of hundreds of children with and without juvenile arthritis to help the diagnosis or treatment decisions for this disease.
 
"Essentially, we took blood samples from more than 100 children, two thirds of whom had childhood arthritis," explains Erika Van Nieuwenhove (VIB-KU Leuven), and first author of the study (shown second right). "We analysed their immune system at a greater level of detail than was ever done before for this disease, and simply using this data we then used machine learning to see if we could tell which children had arthritis."
 
The results were quite remarkable: the algorithm was about 90% accurate at identifying the children with the disease. "Using only information on the immune system, and no clinical data at all, we could design a machine learning algorithm that was about 90% accurate at spotting which kids had arthritis," says Professor Adrian Liston (VIB – KU Leuven, Belgium and Babraham Institute, Cambridge, UK, shown second left)). "This result is a proof-of-principle demonstration that immune phenotyping combined with machine learning holds huge potential to diagnose different forms of juvenile arthritis early in the disease course. Similar approaches could be applied to improve patient selection for treatments and clinical trials."
 
The researchers are hopeful about the impact of this research in improving patient outcomes. "The tool needs further validation but otherwise there are no scientific barriers to this approach being quickly translated to the clinic," comments Professor Carine Wouters (UZ Leuven, shown first left)), who was the clinical lead for this study. "Down the line, we could use this kind of detailed classification information—and machine learning analysis—to identify which patients will respond best to specific treatment options."
 
Notes to Editors
Publication reference
Van Nieuwenhove et al. Machine learning identifies the immunological signature of Juvenile Idiopathic Arthritis. Annals of the Rheumatic Diseases
DOI: 10.1136/annrheumdis-2018-214354
 
Research funding
This work was supported by the European Research Council (Start Grant IMMUNO) with fellowships to Erika Van Nieuwenhove, Vasiliki Lagou, Lien Van Eyck, Marijne Vandebergh and Stephanie Humblet-Baron from Research Foundation – Flanders.
 
Press contacts
For media enquiries on this study to Dr Adrian Liston, please contact Dr Louisa Wood, Babraham Institute Communications Manager, louisa.wood@babraham.ac.uk, +44 (0)1223 496230
 
Sooike Stoops, VIB Press officer, sooike.stoops@vib.be, +32 474 289 252
Ann Lemaître, UZ Leuven Press Officer, ann.lemaitre@uzleuven.be, +32 16 34 49 85
 
Additional/related resources:
News: Raising a child has a bigger effect on the immune system than the flu vaccine or gastroenteritis
Image description:
Header image shows an x-ray scan of a hand. Shutterstock 654941755
The inset image shows the VIB research team: (left to right) Carine Wouters, Adrian Liston, Erika Van Nieuwenhove, Stephanie Humblet-Baron. Image credit: VIB - Liesbeth Aerts
Affiliated authors (in author order):
Adrian Liston, Group Leader, Lymphocyte Signalling and Development research programme
 
Questions from patients
A breakthrough in research is not the same as a breakthrough in medicine. The realisations of researchers can form the basis of new therapies, but the development path still takes years. This can raise a lot of questions. That is why we ask you to please refer questions in your report or article to the email address that VIB, a partner in this research, makes available for this purpose: patienteninfo@vib.be. Everyone can submit questions concerning this and other medically-oriented research directly to VIB via this address.
 
About the Babraham Institute
The Babraham Institute undertakes world-class life sciences research to generate new knowledge of biological mechanisms underpinning ageing, development and the maintenance of health. Our research focuses on cellular signalling, gene regulation and the impact of epigenetic regulation at different stages of life. By determining how the body reacts to dietary and environmental stimuli and manages microbial and viral interactions, we aim to improve wellbeing and support healthier ageing. The Institute is strategically funded by the Biotechnology and Biological Sciences Research Council (BBSRC), part of UK Research and Innovation, through an Institute Core Capability Grant and also receives funding from other UK research councils, charitable foundations, the EU and medical charities.
 
VIB-KU Leuven Center for Brain & Disease Research
Scientists at the VIB-KU Leuven Center for Brain & Disease study how brain cells are organized and how they communicate with each other. These mechanisms reveal and provide insights into what goes wrong in brain diseases such as Alzheimer's, Parkinson's, ALS and dystonia. This basic work should ultimately lead to new drugs for use against these currently incurable diseases. https://cbd.vib.be/
 
VIB
Basic research in life sciences is VIB's raison d'être. VIB is an independent research institute where some 1,500 top scientists from Belgium and abroad conduct pioneering basic research. As such, they are pushing the boundaries of what we know about molecular mechanisms and how they rule living organisms such as human beings, animals, plants and microorganisms. Based on a close partnership with five Flemish universities – Ghent University, KU Leuven, University of Antwerp, Vrije Universiteit Brussel and Hasselt University – and supported by a solid funding program, VIB unites the expertise of all its collaborators and research groups in a single institute. VIB's technology transfer activities translate research results into concrete benefits for society such as new diagnostics and therapies and agricultural innovations. These applications are often developed by young start-ups from VIB or through collaborations with other companies. This also leads to additional employment and bridges the gap between scientific research and entrepreneurship. VIB also engages actively in the public debate on biotechnology by developing and disseminating a wide range of science-based information. More info can be found on www.vib.be.
KU Leuven
KU Leuven is a leading European university dedicated to research, education and service to society. It is a founding member of the League of European Research Universities (LERU) and has a strong European and international orientation. Its sizeable academic staff conducts basic and applied research in a comprehensive range of disciplines. University Hospitals Leuven, its network of research hospitals, provides high-quality healthcare and develops new therapeutic and diagnostic insights with an emphasis on translational research. The University welcomes more 50,000 students from over 140 countries. Its doctoral schools organise internationally oriented PhD programmes for over 4,500 doctoral students. More info: www.kuleuven.be/english.
UZ Leuven
For over 80 years the University Hospitals have been synonymous with high-quality and innovative medical care. An essential part of this is respect and attention for the person behind the patient. There are 1,879 beds in the University Hospitals Leuven, making it the largest university hospital in Belgium: every day, more than 9000 employees are committed to providing diversified and specialist patient care. The University Hospitals Leuven's strength lies in the combination of high-quality clinical patient care, innovative research and academic training. www.uzleuven.be/en