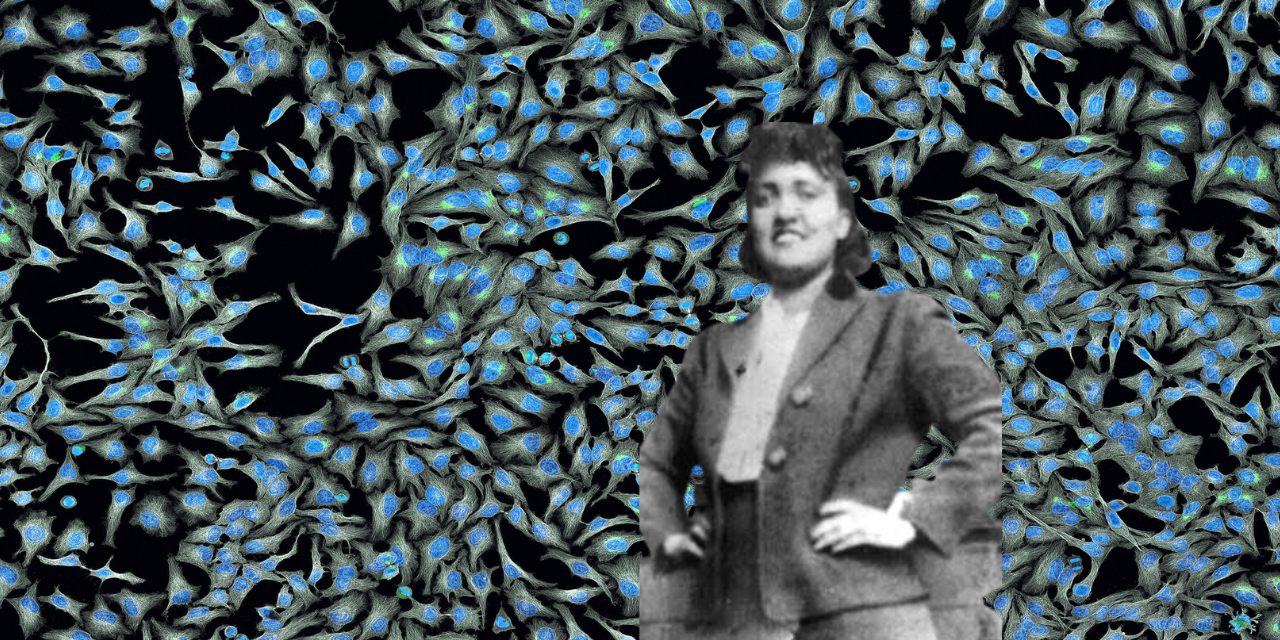 Reflecting on HeLa cells: 70 years on
70 years ago, Henrietta Lacks was treated for cervical cancer at Johns Hopkins Hospital in Baltimore, Maryland. She died mere months later but tumour cells taken from her went on to become the first immortal human cell line. The research breakthroughs this enabled cannot be overstated: 110,000 papers, 11,000 patents and 3 Nobel prizes are just the beginning. While these cells were a boon to research from the start, their use has been followed by questions and controversy. I gave a talk last year on the history and ethics of HeLa cells which included the impact of the Lacks family and the development of informed consent, but that just touched the surface so this blog will cover other aspects of the discussion around their use. In modern society and research, what do HeLa cells represent and what place should they have going forward?
For those who aren't familiar, Henrietta Lacks was a young Black woman who in 1951 sought treatment for a 'knot' in her womb. She went to John Hopkins, the only hospital in the area that treated Black patients, where she received the standard treatment at the time. As was also standard practice at John Hopkins at the time, samples were taken from her cervix during her treatments without her permission or knowledge, as well as after her death. Researchers George Gey and Mary Kubicek realised her cells were different from every other sample they had taken: most cell samples would die within days of being removed from the body but these would endlessly divide and grow, making them essentially immortal. This cell line, dubbed HeLa for the first letters of Lacks' names, was freely distributed to scientists around the world and immediately contributed to medical advances like Salk's polio vaccine. At the time, the origin of the cell line was unremarkable and considered completely legal and ethical. Now, it's a different story and the ethics of using HeLa cells are hotly debated.
If cells were obtained in such a way today, there would be outrage and no ethical body would approve using them, no matter what research it would enable. However, scientists have varying opinions on the morality of using historical research produced through unethical means. One frequently mentioned example is Nazi studies on hypothermia which were cruel to the point of torture but may be used to help save lives. Some argue that if such types of research are already produced then getting some positive use out of it is a way of honouring the victims. Also, such data can be one of a kind since there is no way to reproduce it and it provides insights that cannot be gained any other way. On the other hand, some contend that referencing unethical data is tantamount to endorsing it and taints the reputation of scientific research. There are also worries it can encourage modern researchers to push the limits of ethics, like the case of He Jiankui genetically modifying embryos. The American Medical Association has strict guidelines on when and how data from unethical research should be used. The case of HeLa cells can be informed by these discussions but there is a fundamental difference: though their creation is historical, their use is ongoing.
When talking about HeLa cells in 2021, context is key. HeLa cells are not just a research tool, they have become an emblem of historical wrongs committed against Black and other minority ethnicity people in the name of medical science. The history of exploitation of non-white people in medical research is well documented. From J Marion Sims' pioneering gynaecological surgical techniques by operating on enslaved Black women without anaesthesia, to the Tuskegee syphilis study on Black men which allowed untreated participants to die even decades after penicillin was shown to be an effective treatment, to testing oral contraceptive pills on women in Puerto Rico without telling them it was a clinical trial, HeLa cells are part of a pattern which leads to distrust in clinical trials and medical research. A current example is COVID-19 studies: BAME people make up 13.8% of the UK population but only 5.9% of vaccine trial participants.
It's not just lessons from history that lower trust however. Black people are underrepresented as scientists and doctors and two-thirds of Black people in the UK say they believe the NHS gives better care to white people. It is a painful irony that Black and minority ethnic communities still have poorer health outcomes than white people despite the research carried out on their bodies, even to this day. The HPV vaccine which prevents cervical cancer, the disease that killed Henrietta Lacks, was developed using HeLa cells but still Black women die of cervical cancer at several times the rate of white women and across the globe non-white people have lower access to the vaccine.
Earlier this month, the World Health Organisation (WHO) Director-General, Dr Tedros Adhanom Ghebreyesus, recognised Henrietta Lacks with an award. "In honouring Henrietta Lacks, WHO acknowledges the importance of reckoning with past scientific injustices, and advancing racial equity in health and science," he said. "Henrietta Lacks was exploited. She is one of many women of colour whose bodies have been misused by science." WHO and Lacks' family do not advocate for stopping research done with HeLa cells. Rather, they want her legacy recognised and measures taken to ensure equitable access to the output of research done with HeLa cells.
Problems of racism within academia and health care as well as disparities in health care access and outcomes by ethnicity are well known. HeLa cells cannot be separated from their context and researchers who use them need to engage with that. This could take various forms: acknowledging use of HeLa cells in lab bios and papers, donating to the Henrietta Lacks Foundation, mentoring Black scientists, engaging with marginalised groups about their research, raising awareness and committing to tackling these issues, or many others. Whatever actions they choose to do or not do, scientists who use HeLa cells should not do so without reflection.
Header image description: Henrietta Lacks overlaid on an image of HeLa cells.  The cells' nuclei containing the DNA are stained in blue and the cells' cytoskeletons in gray.
Image credit: Tom Deerinck, NIGMS, National Institutes of Health