Insights to real-life research
Our teacher placement week at the Institute, organised and funded by STEM Learning and the Biochemical Society, came to an end last Friday. After a busy and insightful week, we asked our teachers Ruth, Bethan and Eleanor, to reflect on everything they'd experienced and how this will inform their teaching when they return to school.
 
Our three teachers come from a range of different schools: Eleanor Smith, from Lampton School, a comprehensive school in Hounslow, West London, Ruth Noble, from an independent boarding school, Framlingham College, in Suffolk and Bethan Foulkes, from Parkside Federation Academy in Cambridge.
 
The week introduced Eleanor, Bethan and Ruth to different aspects of the Institute's research, giving them insights into exciting research topics such as cell cannibalism, genome organisation, epigenetics and immunology. They also spent time learning about the scientific facilities which underpin the Institute's research, and the Institute's wider operations, such as public engagement, funding and commercialisation. In addition to learning about the Institute, the teachers also spent time with campus companies Kymab and AstraZeneca to find out how research is undertaken in a commercial setting.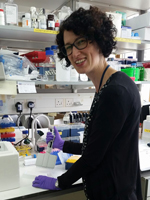 In reflecting back on her original expectations and the week's activities, Eleanor (left) said: "I didn't know what to expect. It's been a comprehensive introduction to everything that happens at the Institute. I've found it interesting to find out about the research areas of the different groups but also how this research is underpinned by the facilities at the Institute and the specialist techniques that are used. In addition, we've been welcomed so warmly by everyone so have really felt a part of the Institute."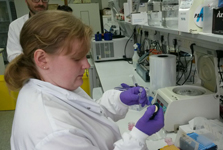 Bethan continued: "I expected to receive an overview of the labs but we got much more than that. We've covered a huge range of research. I enjoyed the fact that the week included visits to campus companies too which allowed us to see how the academic and commercial research come together. The range of people we've met has highlighted the fact that the Institute operates as a cohesive body where everyone contributes. We'll definitely be able to give more accurate careers advice to our students due to the range of people we've encountered."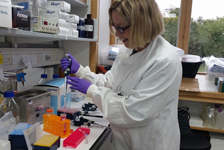 Ruth went on to add: "What an absolute privilege it has been this week to be able to experience a flavour of all that the Institute does and delivers through this wonderful placement programme; from having research explained and demonstrated to us in detail to piecing together how this ground-breaking research can then be developed and used by companies on the campus. I have to say that it did not do much for my sleep though as all the new and exciting ideas kept spinning through my head all night!"
 
When making connections between this week's experiences and their teaching, it's clear in discussion with Eleanor, Bethan and Ruth that they're keen to return to their classrooms and colleagues to share their new knowledge.
 
Ruth explained: "I know that each of us feels a real imperative to ensure that we derive the maximum benefit from this week for our students, and so we have been discussing how we will do this as the week has progressed. For my students at Framlingham College, I can envisage applications in my teaching to extension beyond the A level syllabus, for students perhaps considering undertaking an Extended Project Qualification, or in support of their possible University subject choice. I am looking forward to maintaining my relationships with my placement colleagues to develop these ideas further and also, of course, with the Institute in order to see what I might be able to give back to them."
 
Bethan added: "This week is already having an impact on my teaching as at last night's parents evening I was discussing career paths in biology with my Year 11 students. I've been able to make immediate connections between what I've learnt here and topics we're currently studying in school. The impact of this week will go beyond the classroom as it'll also be invaluable for my science clubs. The week has reinforced my love of biology and I'm sure this enthusiasm will be apparent to my students!"
 
Eleanor said: "For me, I've been creating links between what we've covered here to the A-level and GCSE specifications. I feel privileged to now have a deeper understanding of certain subject areas and this will inform my teaching, allowing us to go beyond the curriculum as a whole and make connections with real-life examples from cutting-edge research."  
 
Dr Tacita Nye, Public Engagement Manager at the Institute, said: "We're very pleased to be able to offer this opportunity to teachers to update their knowledge areas, bring science to life and build links that allow them to add an extra dimension to their teaching. We look forward to continuing our relationship with Ruth, Eleanor and Bethan and also to welcoming our next intake of placement teachers when we repeat this opportunity next year."
 
Image description:
Group leader Oliver Florey demonstrates a lab technique to Ruth, one of our STEM Insight teachers on placement at the Institute for a week in October. 
 
Related content:
From the classroom to the lab – meet the Ruth, Eleanor and Bethan, our teachers on placement.
Placement week equips teachers to translate lab life to the classroom – reflections from Iona and Cecile, our placement teachers from February