Knowledge Exchange & Commercialisation Blog
Welcome to the KEC (Knowledge Exchange and Commercialisation) Blog! This blog is designed with impact in mind; be it at an early stage, where our research and researchers are involved in knowledge exchange activities or later in the research lifecycle, when research can result in engagement with industry and/or commercial or societal benefit. This blog gives a voice to Institute researchers and invited guests working with us on exciting projects.
The views and opinions expressed here are those of the individual authors and do not necessarily reflect the official policy or position of the Babraham Institute.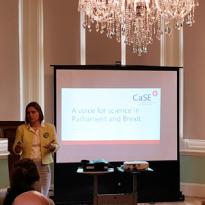 James Tooze, Policy Officer at the Campaign for Science and Engineering (CaSE), takes up the reigns in this latest KEC post. In his guest blog, James tells us about the partnership between CaSE and the Babraham Institute and explains why scientists' engagement in policy is so important. 
 
15/11/2017