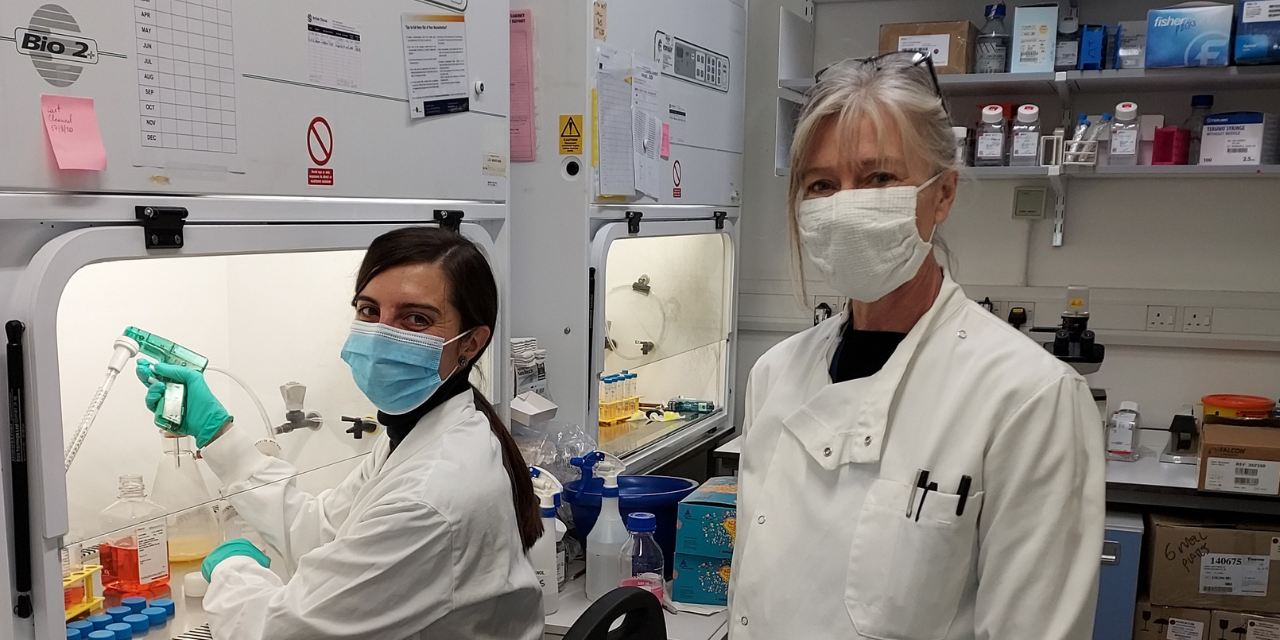 In April 2020, the Institute launched a Roving Researcher position as a novel approach to supporting researchers who take long term leave. The Roving Researcher position is designed to work across the Institute's research teams, not to replace those on leave, but to support their science and the labs in which they work so that the research momentum is maintained during the absence.
There are many reasons for long spells away, but most commonly it is because of maternity leave thereby disproportionately affecting the careers of talented female scientists.
Dr Melanie Stammers is Babraham's Roving Researcher and when first in post in April 2020, she supported the research of Dr Melanie Eckersley-Maslin, a BBSRC Discovery Fellow. You can read more about their individual perspectives in our post: A tale of two Melanies: mitigating the impact of lab long term leave. Due to its success, the Roving Researcher appointment, which was initially supported for a year, has now been made permanent and the Institute are hoping to create a second Roving Researcher role.
The role of the Roving Researcher has inspired many conversations and questions – via social media and in person (well… on zoom). We thought it would be useful to share some of those aspects to support those considering developing a similar role in their organisation. If you have further questions or any comments, please do get in touch.
Have you considered the goals and future career of the Rover?
This is something that we talked about at the Rover interviews. Applicants recognised the opportunity to develop wide-ranging skills in the role and gain experience in the scientific areas covered by our organisation, so for many they saw it as an excellent stepping-stone for a research career. Melanie Stammers who took up the post says, "As the original position was only funded for a year my attitude was if I at least gained training and experience in a range of techniques and scientific areas, that would be great.  Luckily the position has been a success and I can now look forward to a more secure future and it will be interesting to see how the role might develop.
How have you dealt with coincident cases of parental leave when there might be competing demands on the Roving Researcher?
This is a really good question. An important aspect is that the researcher on leave is not replaced by the Rover, and one year on, Melanie has done an incredible job sometimes supporting up to 3 projects simultaneously. In fact, she has also taken on projects when some group leaders struggled to recruit during the pandemic. Therefore, a key skill for anyone holding the roving post is excellent organisation skills. Also the projects supported by the Rover are overseen by a senior institute committee that can prioritise need and ensure that the Rover isn't overwhelmed. Finally, as this scheme often supports parental leave, there is usually a long lead in time to the project and therefore levels of support available can be foreseen and expectations can be managed.
What happens if the biology doesn't pan out as planned during the period of support?
Given the experimental nature of the job, this wouldn't come as a big surprise to anyone. Communication is again key to understand whether there is a valuable and viable alternative piece of work, or whether the Rover's support is best used elsewhere.
What if there are no long-term leaves on the horizon?
Our Roving Researcher has supported facility staff to work through pandemic-induced backlogs and also supported early stage group leaders when it was difficult to recruit during lockdowns.
What if the Rover is not comfortable with some of the experimental approaches e.g. severe procedures on animals?
When recruited all staff are required to understand and be supportive of the research that takes place at the Babraham Institute. Melanie has a personal Home Office animal license and has first-hand knowledge of the extremely high standards in place for the care and use of animals at the Institute. However, if there were projects in which procedures are used in which she might not want to be involved, the committee who oversee all supported projects would be sympathetic to revising the work schedule. Melanie says, "After all, if I was applying for a job, I would not apply for one in which I did not feel comfortable with the experimental approaches."
Does the Rover support 'dry' lab work?
Up to this point, there have not been requests to support significant dry lab work aside from the analysis of data Melanie has produced in the lab such as qPCR and flow cytometry. The projects to date have involved the preparation of numerous libraries for sequencing, and sequence analysis can be an ideal activity when a researcher returns from parental leave. The flexibility of such work allows for the intermittent childcare responsibilities which often occur when first settling a child into nursery.
Would you consider supporting those on long-term leave for other reasons e.g. to go travelling?
We will consider all applications for leave and have been supporting a researcher on adoption leave. However, we do need to prioritise as there is now considerable demand for research support from our Roving Researcher and decisions are made considering the impact on the career of the researcher and the science in the lab.
How do you ensure that there are not conflicts of interest when allocating support from the Roving Researcher?
While the initiative benefits from oversight of our science policy committee, it is led by a member of the research development team and not an active researcher. They act as a first point of contact for any enquiries. Therefore, conflicts can be avoided and the Rover isn't overwhelmed with requests for help.
Do you have any resources that you can share to help us implement this scheme at our organisation?
Yes! We can share our job description and advert, interview questions, and importantly the form researchers complete to request support.
Have there been unexpected challenges?
Again yes! One project required a significant level of weekend work which wasn't sustainable. We now ask in advance whether this will be needed which helps manage expectations and if weekend work is required we enlist the help of the whole lab to share the load.
However, the main challenges of the role are mostly associated with relationships and communication. Building trust when starting a new project is very important. "I have discovered there can be insecurities on both sides," says Melanie. "After completing my first project I, along with the postdoc I had provided cover for, wrote a blog about our experiences. I was interested to hear that she was worried I might 'run away' with the project; whereas I was concerned that I was trusted to do my best, and that I was capable."
"Even after completing several periods of cover, I still find this constant pressure to prove my abilities difficult. The frequent switching projects means I am constantly required to develop new relationships with not only the person on leave, but with members of their lab, and the dependency on others to be provided with reagents and advice can sometimes feel like an uphill struggle."
What are the benefits of this unique role?
The nature of the job, working in several labs across the organisation provides the opportunity to get to know and become integrated in the research community in a way it is unlikely any other role can. Melanie says, "Although communication can be a challenge, it has also been a benefit because the communication required to get to know a project and a new lab has been helpful in countering the isolation we have all encountered as a result of the pandemic. In addition, taking part in different projects across the Institute has given me a broader awareness and understanding of the science being conducted and the expertise of individuals in the organisation."  
Will there be more Roving Researchers?
Hopefully! The scheme has been so successful (largely due to Melanie's expertise, communication and organisational skills), that we are hoping to expand it to recruit a further Rover. If this is a role that might interest you, please keep an eye on our vacancy pages to be part of this exciting opportunity.