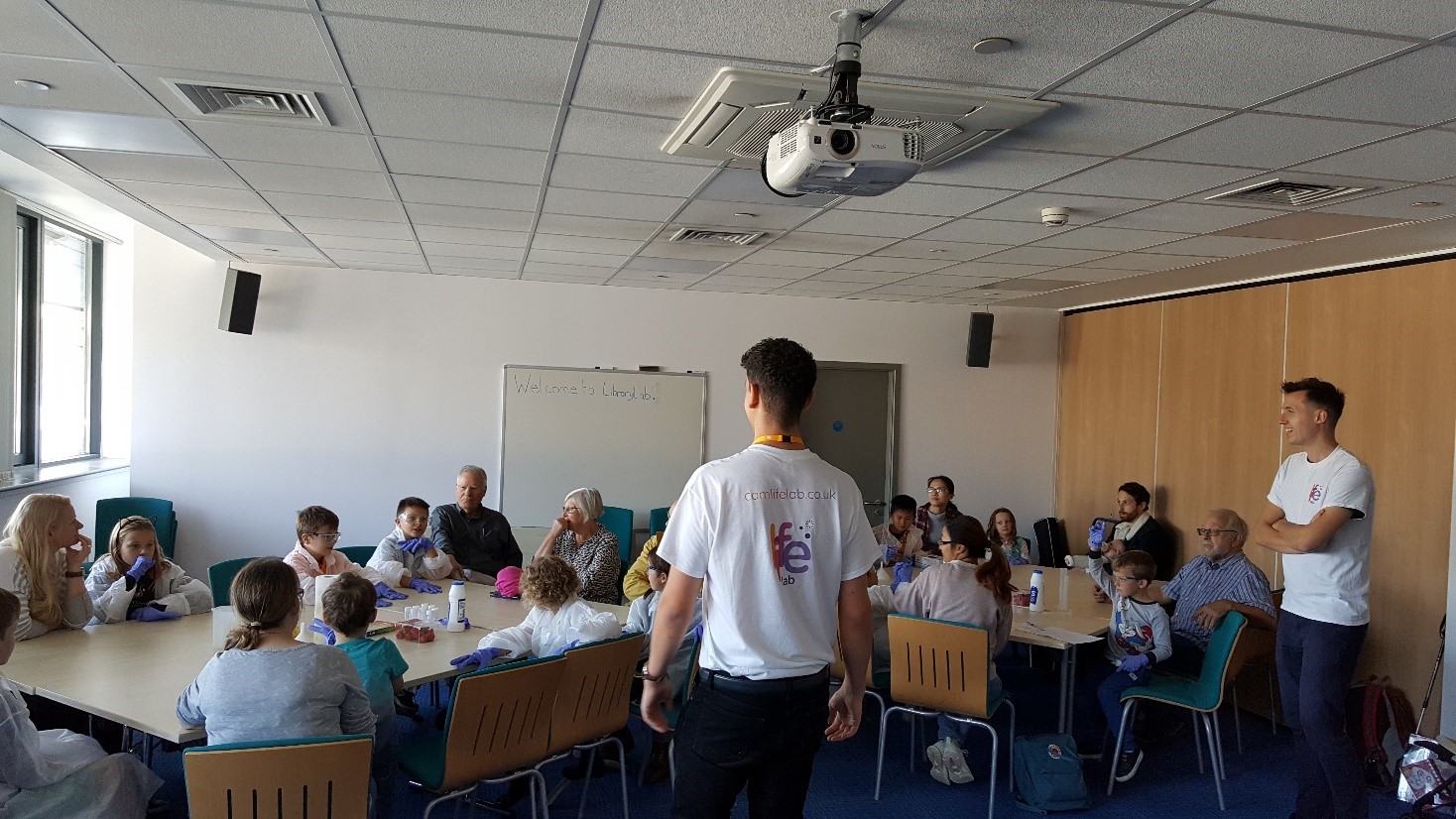 A valiant team effort brought labs to life for European Researcher's Night
As part of European Researcher's Night, a Europe-wide public event dedicated to celebrating science, Babraham Institute researchers were involved LifeLab on September 28th & 29th. This was a joint effort between The Wellcome Sanger Institute, EMBL's European Bioinformatics Institute,the University of Cambridge, and the MRC Laboratory of Molecular Biology.​ As a Public Engagement Intern at the Institute, I found myself facilitating events in both Peterborough and Cambridge.
As part of the preparation for the events, I attended a training workshop run by 'Understanding Animal Research', together with some of the animal care technicians from our Biological Support Unit. One of the exhibits in Peterborough was promoting careers in animal care  and the training improved our confidence in speaking openly about using animals in research. I've always been open about my use of zebrafish in my PhD project, but since visiting the Institute, I feel more confident in actively seeking out these opportunities.
 
On the Friday of LifeLab, I went to Cathedral Square in Peterborough with the Race Against the Ageing Clock exhibit. Institute researchers Robert Froemel, Alex Whale, Andre Zylstra, and I were alongside the other exhibits – the Stem Cell Institute's robots being my personal favourite. The 'Race against the Ageing Clock' exhibit was fantastic; it was an engaging and active way to share novel research into epigenetics. I felt that students listened to my explanations and that they enjoyed doing the activities, which included a stem cell reprogramming quiz. I think that the next time the exhibit is used it would be beneficial to bring more activities to help explain the biology behind epigenetics; perhaps a physical model of the DNA helix to help illustrate the connection between our research and the school curriculum.
On Saturday, I was back in Cambridge for a sold-out Library Lab! Piotr Jung and I were in the Central Cambridge Library, where we ran a DNA extraction experiment with primary school students and their families. We received great feedback, with the kids obviously engaged and appreciative, and their parents suggesting that there should be more free science activities like LifeLab throughout the year. My opinion is that Cambridge is particularly good at events like this, but I was grateful for the feedback and pleased that we reached a new audience.
After the Library Lab session, Emma Martinez, Elizabeth Wynn and I ran a session entitled 'Tell me a story'. The stories that we told, with the underlying themes of equality and breaking gender stereotypes, left me feeling inspired. Tales of pirates who loved to knit, empowered female doctors, and Amelia Earheart resulted in smiles all around as I wrapped up my second day of activities for LifeLab.
It was very impressive to see the various teams of researchers and coordinators working so hard to organise LifeLab. I have experience in managing music & art events back in Sheffield, but this was on another scale entirely. It was daunting seeing the scale of logistics required to make the event as successful as it was. Overall, what I saw was a remarkable feat from everyone, resulting in a very memorable event, in terms of both researcher and audience enjoyment. I'm intrigued to see what LifeLab 2019 will bring.
You can see images from Lifelab 2018 and other Public Engagement events on our Gallery pages.