Won't anyone think of the children?
Stereotypical attitudes toward gender appear early
The low visibility of women in science isn't news to anyone. Even children know it: when asked to draw a scientist, they overwhelmingly draw old white men with beards. Almost as soon as they start developing an understanding of gender, children start learning the 'differences' between boys and girls based on their environment. Unfortunately, a lot of the messages they get reinforce stereotypical messages about what girls and boys are good at, what toys they should play with, and what jobs they should have when they grow up.
But these views aren't inevitable
By challenging stereotypes when we see them, pointing out good role models, and presenting different narratives, we can help children develop more balanced outlooks on gender and their own potential. Some examples might be using gender neutral language like 'firefighter' or 'police officer', talking with children about why they think girls can't play 'boys games', or telling children about people of all genders doing a variety of amazing and interesting things.
'Tell Me a Story' at LifeLab - Book now for Sept 28th & 29th
Babraham Institute staff will be reading picture books that challenge gender stereotypes at LifeLab's events on September 28th and 29th, including plenty of stories about women and girls in STEMM to inspire the next generation of female scientists. To get involved please email the public engagement team at PE@babraham.ac.uk or to find out more about the Institute's equality and diversity work email equality4success@babraham.ac.uk.
Find out more about LifeLab and other LifeLab events coming up in September here.
Recommendation list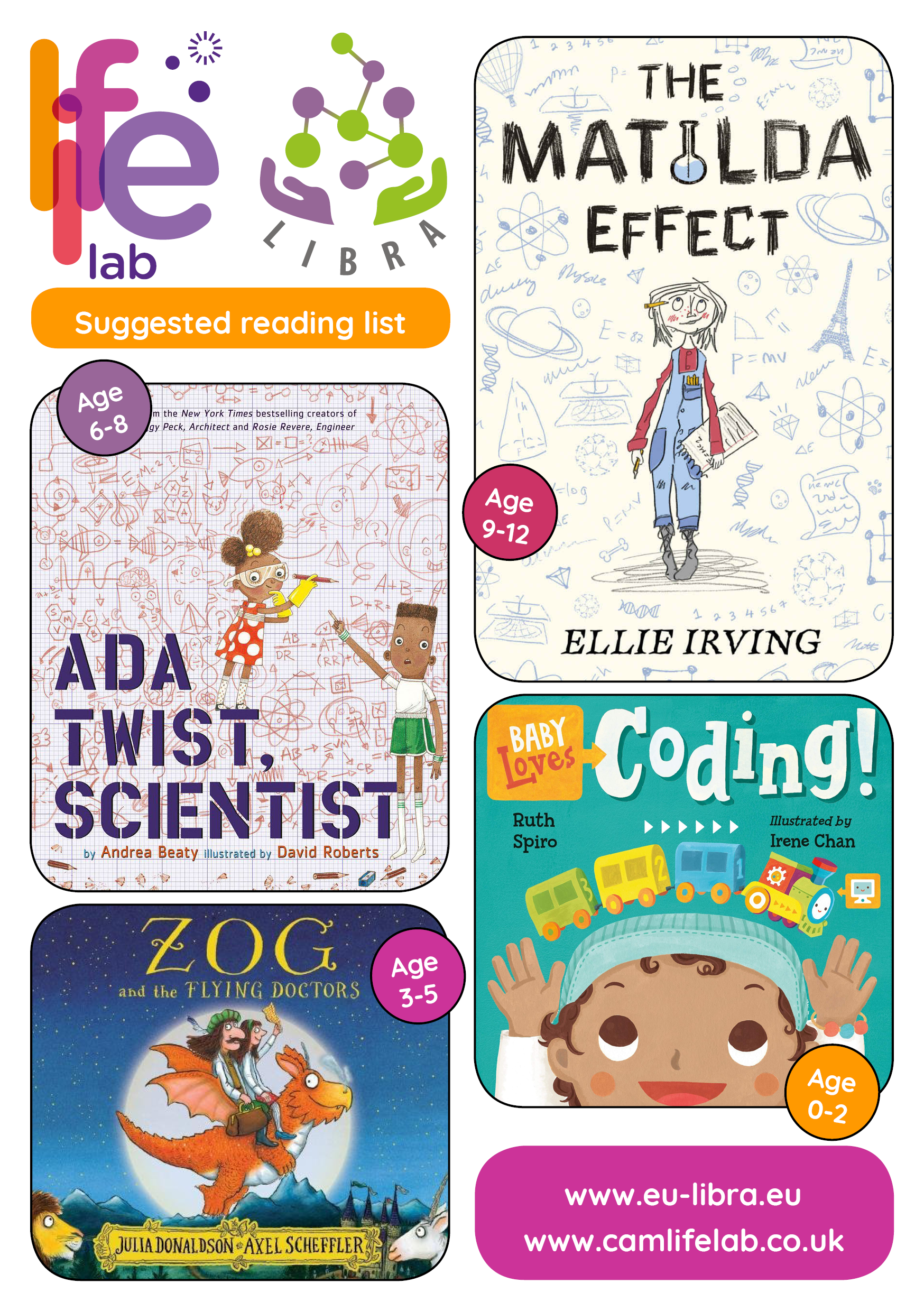 Ages 0-2
Baby Love Coding (Baby Loves Science series) by Ruth Spiro
Astronauts (First Explorers series) by Campbell books
Little Miss Inventor (Mr Men and Little Miss series) by Roger Hargreaves
Ages 3-5
Zog and the Flying Doctors by Julia Donaldson
CeCe Loves Science by Kimberly Derting
Little People, Big Dreams: Marie Curie by Isabel Sanchez Vegara
Age 6-8
Interstellar Cinderella by Deborah Underwood
The Girl with a Mind for Math: The Story of Raye Montague by Julia Finley Mosca
Ada Twist, Scientist by Andrea Beaty
Age 9-12
The Matilda Effect by Ellie Irving
Women in Science: 50 Fearless Pioneers Who Changed the World by Rachel Ignotofsky
The Evolution of Calpurnia Tate by Jacqueline Kelly