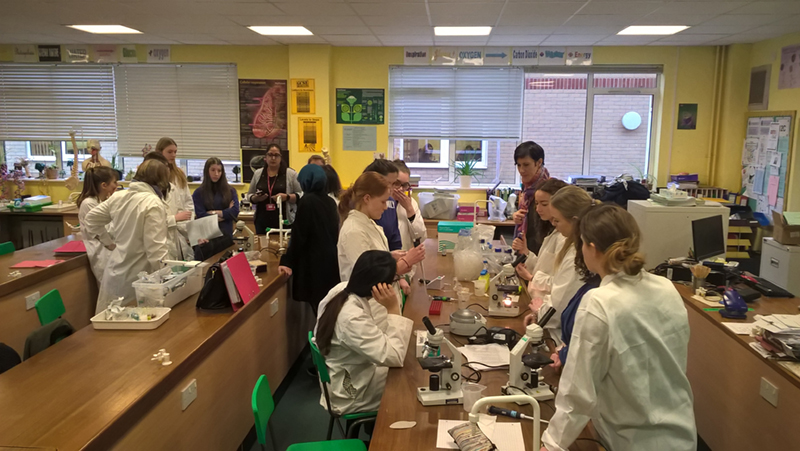 March 2017
Dr Rob Jelier, a group leader from University of Leuven is visiting the lab in March
February 2017
C elegans Metabolic Recon workshop. Registrations open!
Dr Rebecca Aldunate, a researcher from Chile is coming as part of a Royal Society Global Challenges Research Grant
January 2017
Laetitia and Boo are working on a Royal Society Partnership Grant project with Colcester County High School for Girls (see picture on right)
June 2016
The entire lab @ Retreat in Berlin, Great times!!
09/02/2016
Laetitia Chauve goes on the second round of FAMELAB 2016 with her worm puppet friend. 
08/02/2016
Welcome Andre Zylstra, a rotation PhD student in the lab, Lei Zhou, ERASMUS plus joining us from Rome and Lucy Field for a short time visit to the lab
 16/09/2015
Welcome Vanasa Nageswaran, an intern student who join us from Germany for 6 months.
15/09/2015
Happy to be invited to join an excellent women in science network 
20/06/2015
 Laetitia and Abraham are heading to the C.elegans conference in Los Angeles.  Have fun!
19/06/2015
Tim Hunt's comments prompted a gender equality survey and this response
10/06/2015
The lab is growing!  new postdocs: Cheryl Li (coming from University of Sidney, Australia)  and Juan Rodriguez (from University of Wisconsin, USA)
 a PhD student, Janna Hastings (from EBI).  Will join the lab this Fall.
10/03/2015
Welcome Mariangela Spagnuolo, a visiting ERASMUS student in the lab
15/01/2015
We will shortly be advertising postdoctoral vacancies in the lab - more information will be available on the Babraham Institute Vacancies page:
www.babraham.ac.uk/vacancies-training/vacancies
14/01/2015
We are pleased to have been awarded a European Research Council grant