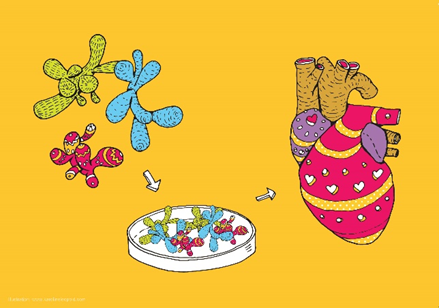 Mini-me: How 3D Organoids are Revolutionising Research
Join us to hear the real story from a panel of scientists currently growing 'minature organs'.  How is it done? And why are these technologies so important for biomedical research?
An interactive panel discussion will be followed by wine, nibbles and a chance to chat informally with researchers.
This event is co-hosted by four leading biomedical research institutes: Wellcome Trust - Medical Research Council Cambridge Stem Cell Institute; Wellcome Trust Sanger Institute; Wellcome Trust/Cancer Research UK Gurdon Institute; and the Babraham Institute.
The Babraham Institute is supporting a number of other events during the Cambridge Science Festival, brief details are below, but please visit the Institute main events page to find out more, or the Cambridge Science Festival programme here.
The Babraham Institute is supporting a number of other events at the Cambridge Science Festival, please follow the links below to find out more: 
Monday 13th March: CHROMOS - zoom into the 3D structure of our chromosomes
Tuesday 21st March (6pm - 8pm): Epigenetics: DNA Does Not Account for everything. 
Thursday 23rd March (6.30pm - 8pm): In Conversation with the Babraham Institute
Saturday 18th March - Sunday 19th March (Various times): Babraham Institute Molecular Explorers @ The Guildhall 
 
Event Details
| | |
| --- | --- |
| Contact | |
| Location | Buckingham House, Murray Edwards College |